Need Help Or Ready To Shop?
Enter your Zip code below to find plans available in your area.
Medicare Advantage HMO Plans In New York
Empire's Medicare Advantage HMO plans help you save money with no or low plan premiums. Choose an Empire MediBlue HMO plan in New York if you want all-in-one coverage that includes Original Medicare (Medicare Parts A and B) and usually Medicare Part D (prescription drug) coverage.
Empire MediBlue HMO Plans In New York
MediBlue HMO plans are Medicare Advantage plans that offer the benefits of a health maintenance organization (HMO) plan, including lower monthly premiums and lower out-of-pocket costs.

When considering Empire MediBlue plans, you have the option to choose a Medicare preferred provider organization (PPO) or Medicare HMO plan. Learn more about Medicare Advantage plans with Empire, including the difference between HMO and PPO plans.
Is A Medicare HMO Plan Right For You?
When you choose a Medicare Advantage HMO plan, you can select a primary care provider (PCP) in the plan's network. Your PCP provides your regular care and routine screenings. They also direct you to the right specialists when you need them.

Working with a regular doctor who understands your health history, medications, and unique healthcare needs has its advantages. Your PCP can recommend the healthcare expert or facility that will best meet your needs.
What Do Medicare HMO Plans Cover?
An Anthem MediBlue HMO offers a strong network of doctors and hospitals you can trust for quality care.

Here are some of the other benefits of our Medicare Advantage plans:
Preventive services
Coverage for annual check-ups, immunizations, and flu shots, as well as certain tests and screenings.
Prescription drug coverage
Coverage for a wide range of prescription drugs and Medication Therapy Management (MTM) programs for complex health needs.
Over-the-counter (OTC) health items
Receive an allowance for OTC items like vitamins, aspirin, dental and vision care products, and more.
Dental, vision, & hearing
Benefits are built right into your plan, and you may be able to buy additional coverage.
24/7 telehealth visits
Connect with providers by computer, tablet, or smartphone in the convenience of your home.
Benefits listed may vary based on the plan you choose or where you live.

What Do Medicare Advantage HMO Plans Cost? 
Medicare Advantage plans can help you save money. With low or no monthly premiums, copays, or deductibles, our Empire MediBlue HMO plans can help you keep to your budget without sacrificing coverage.
Benefits listed may vary based on the plan you choose or where you live.
Who Can Enroll In A Medicare Advantage HMO Plan?
People with a chronic condition or who have both Medicare and Medicaid may enroll in a Medicare Advantage Special Needs Plan (SNP). These plans offer specialized care including home delivered meals, transportation, over-the-counter (OTC) health items, and other benefits.

Anyone eligible for Medicare can choose a Medicare Advantage HMO plan. Choose an Anthem MediBlue HMO for all the coverage of a Medicare Advantage plan with the cost and service benefits of an HMO.
Benefits listed may vary based on the plan you choose or where you live.
Frequently Asked Questions About Medicare Advantage HMO Plans
A Medicare Advantage HMO (health maintenance organization) plan is a type of Medicare Advantage plan that provides healthcare coverage from doctors, other health care providers, or hospitals in the plan's network for certain services.

A Medicare Advantage HMO plan also covers emergency care, out-of-network urgent care, or out-of-network dialysis.
No, if you are eligible for Medicare and wish to sign up for a Medicare Advantage plan, you have other options, including a Medicare Advantage PPO (preferred provider organization) plan or a SNP (special needs plan).
More To Know About Medicare Advantage
Learn More About Medicare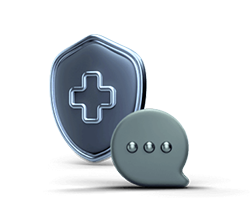 Attend A Free Medicare Event
Sign up for a free Medicare event to learn how Empire Medicare plans help cover costs that Original Medicare doesn't. You can attend a virtual Medicare webinar. Or, if you prefer, come to a live seminar in your area where a licensed Medicare agent will be present to answer your questions.
Find An Event
Out-of-network/non-contracted providers are under no obligation to treat Plan members, except in emergency situations. Please call our customer service number or see your Evidence of Coverage for more information, including the cost-sharing that applies to out-of-network services.
Empire BlueCross BlueShield is a Medicare Advantage plan with a Medicare contract. Empire BlueCross BlueShield is a SNP plan with a Medicare contract and a contract with the state Medicaid program. Enrollment in Empire BlueCross BlueShield depends on contract renewal.